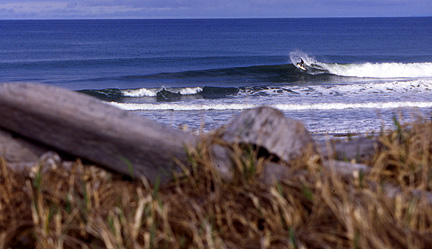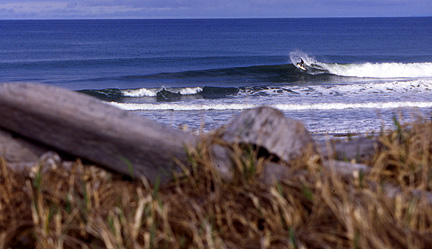 On your first day in Canada, you might find yourself mapless in a 4X4 pickup on a signless, snow-flanked logging road. This road has many forks and it badly disorients you.
Later, you might pull up to the head of a desolate fjord. It's a ways down, at the base of a cliff. You can see a pebbly beachbreak, a flawless right point, and an enticing left rivermouth, but despite epic scenery and proximity to open ocean, these possibilities are lake-flat while, outside, the exposed coast is bombing. Slabs galore. A jet ski would be useful, but trailering it out atop that road would have banged the thing to bits. Having nowhere to launch it is another issue.
That, and being alone.
On your second day in Canada, you might deal with unruly swell. Aside from finding a surfable spot, it might be a chore getting to that swell. Beyond the small dark town from whence you drove, there is scant pavement but many remote harbors, overgrown hiking trails, and little else but steep cliffs, impassable alpine ridges of rock and snow, and dense forests that average 20 feet of rain annually, pelted by furious winds and enormous seas.
On your third day in Canada, you might find yourself walking on one of those overgrown trails, its slick mud linked by the crossings of four waist-deep creeks. You are in black bear territory. Dense, wet foliage smothers much of the path, so most of the hike is done in your 6mm fullsuit and 7mm booties while holding your surfboard and pack over your head. After an hour or two, you spy a through-the-trees vista that exemplifies the northwest surf experience: a gray Pacific, jagged black rocks, and some variation of rideable surf that, depending on your attitude, might not justify the risk.
For most surfers, Canada is a cruel and unusual place.
"My reality here is that it takes a lot of effort to find good waves," Raphael Bruhwiler confided to me from his home in Tofino (ironically voted "Best Surf Town in North America" in 2010 by Outside magazine). "If you're not prepared, you can die very easily, and if something goes wrong, you've got to stay warm. Lately, we've been wearing drysuits because, if you fall out of my boat, you can survive. If you fall out wearing a lifejacket, you'll die in about 20 minutes since the water is so cold. And drysuits protect you from rain — you never get wet, which is really necessary until you're actually surfing."
A gritty soldier of British Columbia (Canada's westernmost province), Raph needs no introduction. You've seen his name in surf magazines. His wetsuited frame in slab-barrel shots. Ads for his surf school. His woodsy "Innersection" thing on the interwebs. During the 2010 Winter Olympics torch relay, for a global audience, you saw him proudly hoist the flame as he surfed toward the white Tofino sand. Besides Pete Devries, his dear friend, Raph is arguably Canada's most famous surfer, almost unilaterally pegging the Maple Leaf Nation to the world surf map.
Thing is, Vancouver Island waves aren't what the world wants them to be, especially since the best waves have no roads to them, and good boats with good weather can be tough to orchestrate. Contrarily, whatever Tofino's beachbreaks lack in quality and character might be redeemed by their carpark-access for anyone with wheels or a thumb. But you don't visit Vancouver Island to surf those beachbreaks. They suck.
"There are still so many spots to discover," Raph says, "but it's such a huge and rugged stretch of coast that it's hard to be at the right place at the right time. If I had a ton of money, and if I had a helicopter or a floatplane to buzz around in, there would be many more spots being found." (laughs)
Once, he was my seatmate on a less esoteric kind of flight.
"Better put your jackets on!" the Air Canada Jazz stewardess had yelled over the noise. "It's a bit breezy out there!"
We stepped through the Dash 8's door and were nearly blown off the airplane stairs. The wind was sharp, the air freezing. Black storm clouds loomed. Behind the tiny airport were jagged, snow-covered mountains, and in the distance lay one of the world's most feared waterfetches, wicked that day, smeared white by a southeasterly gale.
"At least it's offshore somewhere!" someone yelled over the din.
This was expected. Daily, for weeks leading up to our departure, I'd monitored the island's weather online, and the forecasts were repetitive, like the one posted the day of our arrival:
Storm warning continued. Wind warning in effect.
Tonight..Rain. Amount 20 mm. Wind southeast 50 to 70 km/h increasing to 70 to 100 overnight. Low plus 5.
Thursday..Rain. Amount 20 mm. Wind southeast 70 to 100 km/h becoming south 40 to 60 in the afternoon. High 8.
Thursday night..Rain. Amount 10 to 15 mm. Wind southeast 50 to 80 km/h. Low 8.
Friday..Rain. Wind southeast 50 to 70 km/h increasing to 70 to 100 then becoming south 30 late this afternoon. High 10.
On the bus heading to town, a filthy fisherman with an odd drawl promised us that there was a giant wave "just like Maverick's" that broke out in front of a fishing lodge his friend worked for, out on the west coast.
"It breaks best when the winds are about 70 knots onshore," the fisherman said. "Just comes up out of nowhere and boom, this huge roller, taller'n a totem pole."
"Which way does it break?" we asked, eyebrows raised. "Left or right?"
"Oh, just straight in, right toward shore."
Outside our motel, we were mocked by passersby; one woman thought we'd brought oversized snowboards. Three loggers in the café next door thought we were hippie tree-planters from the large city of Vancouver. Apparently, tree-huggers/planters were not particularly admired out here despite the island's forests being logged at twice the sustainable rate.
Still, we would not be digging holes for cedar saplings.
"You guys are here to go surfing?" the loggers asked, laughing at us. "Good luck!"
Down at the harbor, another local said we were out of our minds, that if we wanted to go surfing, we needed to go somewhere like California or Hawaii. He suggested that we start drinking whiskey instead, joining him at a nearby cocktail lounge, where there would be "guaranteed fights."
While the offer of drinking and fighting proved nearly irresistible, we declined and repaired to a dingy Chinese restaurant where we checked the online forecast and brainstormed between forkloads of MSG. Nearshore buoys reported a 27-foot windswell. Heading seaward in a boat was undesirable. As they often did in Canada, for surfing, things looked bad.
"It'll probably get worse," Raph said.
"Hopefully it will blow 70 knots onshore," I said.
This was not Raph's immediate home turf. We were not near the apple of his surf eye, a rogue slab deep in the inclement wilds of Clayoquot Sound. Clayoquot, by the way, was derived from the name of the local First Nations (i.e. Indian) band called the Tla-o-qui-aht, which translated as "changing" or "different."
Gazing out at shifting clouds and horizontal rain and distant snowcaps, listening to the wind shriek past the dirty restaurant windows, we could almost relate. We'd found fun albeit gutless waves at one lefthand rivermouth, but really, until then, searching for waves, we'd driven an average of 150 miles a day, very slowly, with no music, in a rented four-wheel-drive truck, progressively coating the cab's floor with food wrappers and empty water bottles. In the truck for hour upon hour, fidgeting and farting and letting the comedy flow freely. Let's see what's down that road became the theme, the driver (me) repeatedly and abruptly veering the truck off the main road and down sketchy singletracks in dense rain forest, usually leading to an impassable hole or horizontal tree, or to another flat beachbreak, or to the cabin of a reclusive family or an incoherent, loudmouthed hippie who didn't want us there.
Other locals were more cerebral (search "Vancouver Island surfers hanging out with our Orcas" on YouTube).
"Yeah," Raph says from Tofino. He's just returned from another camping trip to his beloved slab. "I've had a few close encounters with orcas.
He chuckles.
"But I think they know that humans taste like shit."